mySleep® Brand Transition

We have changed our brand!
Due to changes in the ResSleep franchise network ResSleep Brisbane has now rebranded as an independent provider under the name of mySleep®
Being independent from the ResSleep network will allow us to focus more on our referring doctors and the patient journey and their individual requirements by having more equipment and treatment options to choose from.
Exciting New Products & Services
Informative and easy to use website
Online shopping cart with easy replacement parts identification
Online appointment booking form for your convenience
Increased choice of payment options
Dedicated Customer Support Centre (phone and web-based support)
Longer opening hours and Saturday appointments
More Sleep & Respiratory Physician consultations available
Tele-health, phone, and in-clinic consultations
DVA, NDIS, My Aged Care service providers
Increased education and awareness of sleep disorders, sleep studies and treatment options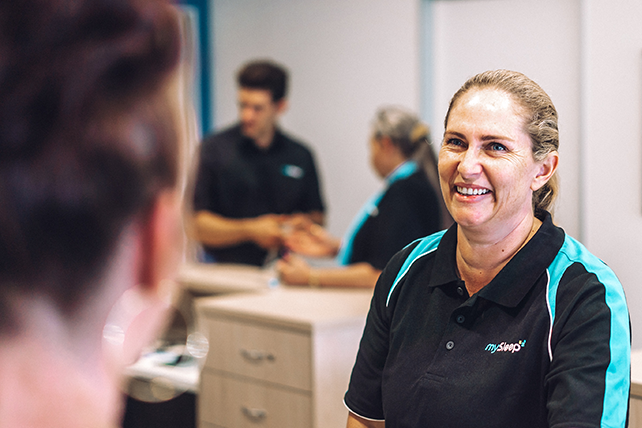 Frequently Asked Questions
Are we still part of the ResSleep group?
No, but our independent network is still an accredited ResMed provider. We will continue to work with ResMed products, along with other premium brands including Philips and Fisher & Paykel.
In Brisbane, we still work with several independent Sleep Physicians who report and offer consultations.
All the mySleep® Brisbane clinics have the same company Director and offer the same and improved in-clinic and online services.
Will this affect the current treatment trials offered or Medicare Bulk billing capability?
All CPAP treatment trials, and Medicare services will remain the same.
If anything, we have increased our range of products, services, and payment options.
Will there be delays to our services with the changeover?
There will be no delays in services, the flow of business will proceed as normal for both patients and referring doctors.
What is the benefit in coming to a mySleep outlet for my ResMed products?
We see the patient through the entire journey, from pre-diagnosis, sleep study, , treatment options, education, on-going care, support, spare parts and servicing.
We work with your GP and keep them appraised of your progress.
We work with respected independent Sleep Physicians who can offer in-clinic or tele-health consultations.
Longer opening hours and Saturday appointments in our clinics, based on staff availability and locational demand. Suitable options will be discussed when you call to book.
Can I still use my ResSleep Referral?
Although we are no longer part of the ResSleep group we will still continue to accept our old referral forms, with the ResSleep branding.
What will happen to my existing ResSleep case file?
It will stay the same, it is only our name that has changed.
It will not affect your case notes or invoicing history, your patient data is all still saved in your file.
Will there be a change of staff?
No, if anything with the increased demand for sleep studies and a general interest in better sleep health and wellness, we only hope to grow!

Your Sleep Health Journey